QUIET! We know it's not the Cobra Kai way, but unfortunately you're going to have to give the production team just a little bit of mercy when it comes to this one.
We know for a fact that season five is coming, but with season four dropping at the end of December 2021, it seems likely we'll have a bit of a wait to get it.
Since the show was bought by Netflix from YouTube Red/Premium, new seasons have dropped on New Year's Day (season three) and New Year's Eve (season four).
Our best bet is that this will remain the same throughout upcoming seasons.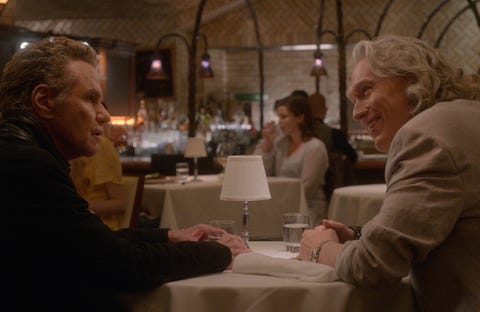 So basically look at your calendar, and however long it is until the end of the year is how long you'll probably have to wait. We're betting that it feels longer than it takes Johnny to figure out how to use the internet, right?
As of February 2022, there has been no news regarding a release date and when to expect it. The team have revealed that the season has, at the very least, been filmed, so that could mean we could be getting it sooner rather than later.
However, at least the team is also good at dropping teasers throughout the year to keep us eager. For season four alone, they confirmed Terry Silver's return in May 2021, before dropping a teaser a couple of months later.
Cobra Kai season 5 cast: Who will be in the series?
Cobra Kai is generally cemented by one major thing – the fragile frenemyship (frenemosity?) between Daniel LaRusso and Johnny Lawrence, played by Ralph Macchio and William Zabka.
Their complicated rivalry was sparked in the original Karate Kid, and the show hinges on their efforts to move on from decades of hating each other. So there's no way they won't be back.
Over the course of the show, this has grown to include Johnny's former Cobra Kai sensei and original bad guy John Kreese (Martin Kove), and as of season four, his right-hand man Terry Silver (Thomas Ian Griffith).
But Cobra Kai is not just a Karate Kid redux, with Johnny and Daniel's respective kids having their own plotlines and dojos, bringing along fellow high-school kids for their own plots.
Following the events of season four, it's highly likely Tanner Buchanan (Robby), Peyton List (Tory) and Joe Seo (Kyler) will all be back representing team Cobra Kai.
But someone you'll need to really keep an eye on is Kenny (Dallas Dupree Young), a new addition to season four, who was warped from a well-meaning, slightly nerdy newcomer to a vicious and bitter bully.
Over at Miyagi-Do, you have Sam (Mary Mouser), Eli/Hawk (Jacob Bertrand) and Demetri (Gianni DeCenzo). But Miguel (Xolo Maridueña) is still in question after he fled to Mexico at the end of the season.
Anthony LaRusso (Griffin Santopietro), Daniel's son, has never particularly shown any interest in karate. In fact, due to its significant importance in his dad's life, he's actually kind of resented it. But season four saw him drawn into the world more than ever after he and his pals turned on new kid Kenny, pushing him into the arms of Cobra Kai so he could fight back.
Fight back he did – in a major brutal way. Seems like Anthony might have no choice but to finally learn the Miyagi-Do way too in order to defend himself against what lies ahead of him with Kenny at school, who swore to deliver a "world of pain".
Another character to watch out for in season five is likely to be Stingray – the immature older member of Cobra Kai who reappeared after being absent in season three.
After attempting to bond with the high-school kids (and even throwing a house party, which should surely get a man of his age arrested), he tried to pledge his allegiance to Cobra Kai.
Instead, Terry Silver beat seven bells out of him, and forced him to pin it on Kreese as an attempted murder so he could take over the entire dojo.
How he acts in the next series as a result of the vicious assault (which left him in some kind of minor coma in hospital) could determine the gang's next play.
Silver himself has some powerful pals. At the end of the season, he mentioned 'bringing in some friends' to help the Cobra Kai takeover.
Most fans have taken this to mean Mike Barnes (Sean Kanan), who previously appeared in Karate Kid III, and was a vicious enemy to Daniel. He's also the last major bad guy yet from the film series to make an appearance in the show.
With Daniel beating him in the championships back in the late '80s, could he actually have a score to settle with him after all this time?
Cobra Kai season 5 plot: What's going to happen?
Cobra Kai's season four finale is something of a game changer, with Terry Silver double-crossing Kreese and getting him arrested.
The arrest for the attack on Stingray effectively shoves him out of Cobra Kai and the planned expansion, as the formerly zen-appreciating Silver returns to his old, vicious and evil ways.
Silver is the new threat, and unlike Kreese, he doesn't seem to have as much of an obvious weakness. Which is made even worse when you consider that, due to their bet over the All-Valley tournament, Miyago-Do is no longer a functioning dojo.
However, Tory may hold the key, knowing Silver paid off the referee that secured Cobra Kai the win. With her hard exterior softening, will this prove to be the thing that makes her break away from the squad?